James Vasslides

I currently serve as the Senior Program Scientist at the Barnegat Bay Partnership (BBP), one of the 28 National Estuary Programs across the country. As the senior scientist, I am responsible for overseeing all aspects of the BBP's science activities, including our long-term monitoring programs for 1) juvenile fish and jellyfish, 2) winter eel ingress and 3) seagrass demographics, among others. I also ensure that the best available science is used in the BBP's deliberations and recommendations. I received my B.S., M.S., and Ph.D. in Ecology and Evolution from Rutgers, The State University of New Jersey, and have published papers on fish community assemblages, fish feeding interactions, fish and shellfish early life history movements, ecosystem trophic modeling, and seagrass distribution modeling. My research interests include the role of estuaries as nurseries, the restoration of shallow-water habitats, and climate change effects on species distributions and assemblages.
I have been an AERS member for over a decade now, joining when I started my position at the BBP as a way to stay abreast of the best estuarine science happening in our region (in the world, frankly). During that time I've been fortunate to attend many of our meetings, learning from outstanding scientists and bringing that information back to our local estuary. I am now in a position where I can "payback" some of the benefits that I have gained from being a member in the Society by taking an active leadership role. As Secretary I can put the skills I have honed serving as the BBP staff liaison to innumerable committees (meeting logistics, meeting minutes, arm-twisting, wrangling/shepherding) to use in the advancement of the Society's goals and aims. Additionally, for the past 4 years, I have served in the same position for the American Fisheries Society's Estuaries Section and have encouraged that group to explore cross-society opportunities, so serving in a leadership role in both groups (for the next 5 months at least) will strengthen that approach.
April Blakeslee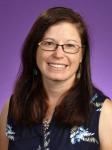 Qualifications:
B.A., Biology with a concentration in Marine Science, Boston University, 1994-1998.
M.A. (thesis-based), Biology, Boston University, 1999-2001. Thesis topic: site-fidelity and reproductive success in a neotropical migrant species, the Ovenbird.
Ph.D., Dept. of Zoology (Marine Evolutionary Ecology), University of New Hampshire, 2001-2007. Dissertation topic: resolving cryptogenic histories using multiple lines of evidence.
Postdoctoral Fellowship, Marine Invasions Lab, Smithsonian Environmental Research Center, Edgewater, Maryland, 2007-2011.
Assistant Professor, Ecology, Long Island University-Post, Brookville, New York, 2011-2015.
Assistant Professor, Conservation Biology, East Carolina University, Greenville, North Carolina, 2015-present.
To date, I have published 46 papers in the fields of biodiversity, population genetics, parasite ecology, marine and estuarine ecology, biogeography, and invasion biology. I am on the editorial board of two journals, BioInvasions Records (as Deputy Editor-in-Chief) and Diversity & Distributions (as Associate Editor). I have been a member of AERS since 2017 and my students have also been members. Two of my students have won awards at AERS meetings: Collin Love (a former undergraduate intern) for his talk, and Tim Lee, a current PhD student, for his poster. Presently, I am mentoring 2 PhD students and 2 MS students. All are doing research in estuarine or saltmarsh systems.
Below is a blurb from my website (www.blakesleelab.com) that explains more about my research:
Overview of Research Interests: The Blakeslee lab emphasizes marine and estuarine conservation biology and includes a diverse research program involving biodiversity, population genetics, parasite ecology, and biogeography—as well as the unique and integrative insight that can be gained from studying biological invasions. Recently, biological invasions have become recognized as a major contributor to the global (and often disjunct) distributions of many marine and estuarine species as a result of human transport mechanisms. Invasion research is therefore important not only from a conservation perspective but can provide a theoretical and practical understanding of population and community level influences of novel species, and can also serve as an important teaching tool for students and the general public. Biological invasions are a major part of human-induced global change, including population, community, and ecosystem-level shifts in marine biota, genetics, and the environment. We examine many integrative aspects of marine and estuarine invasions, focusing on four major areas: (1) global distribution patterns, biogeography, and conservation biology of free-living and parasite species, (2) invasion histories and vectors, (3) population genetics, population ecology, and evolutionary ecology in native and non-native populations, and (4) biodiversity, community ecology, and host-parasite interactions of native and non-native organisms, including host behavior, physiology, and genetics. We focus our studies primarily on marine invertebrates as they have contributed vast numbers of introductions globally, and they also serve as hosts to parasites, which are a fundamental but often overlooked component of many ecosystems, and which can become cryptic invaders themselves
Thank you for considering me! If I am selected, I would look forward to working with the AERS Board to guide the future of AERS, help plan meetings, take minutes, among other necessary duties.